Showing 1 - 2 of 2 results
$1,800
Rancho Cucamonga

,

CA
Property Type: Other
Capacity: 400
Hidden Oaks provides the perfect setting for life's most important celebrations. Whether your event calls for an outdoor ...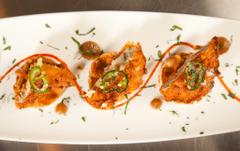 $35 to $55
Rancho Cucamonga

,

CA
Property Type: Restaurant
Capacity: 300
Ra Pour, a sleek restaurant and lounge which brings fine dining and nightlife to Rancho Cucamonga's Victoria Gardens. ...